At Vintvélo we design and create original and stylish T-shirts, sweatshirts and musettes for cyclists. Our designs include road cycling, gravel, vintage, time trial and cyclocross themes. Passionate about great quality and ethical fashion, we offer a choice of organic cotton, bamboo and 100% recycled garments.
Our cycling musettes are entirely handmade by us and available in a variety of designs and colours. We also have a range of accessories featuring our designs, including recycled bike chain keyrings and notebooks.
Why not visit our online shop and please don't hesitate to get in touch in you have any questions.
News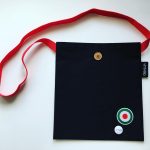 Latest musette designs!
March 27 2021
-
Check out our very latest new musettes for 2021. All of our musettes are individually handmade here in Southampton. The beauty of handmade means all of our bags are fully customisable, so please get in touch if you'd like something bespoke just for you!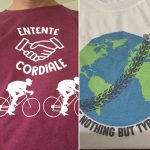 New designs for 2020!
July 7 2020
-
We're so excited to be launching 2 brand new designs this month. "Entente Cordiale" and "Leave nothing but tyre prints". Discount code "New" for 15% off, valid until 12/07/20. .