At vintvélo we design and create original and stylish T-shirts and musettes for cyclists. Our designs include road cycling, vintage, time trial, cyclocross, MTB and BMX themes. With a choice of organic cotton, bamboo and original cotton T-shirts, in men's, women's and children's sizes.
Our cycling musettes are entirely handmade by us and available in a variety of designs and colours. We also have a range of accessories featuring our designs, including recycled bike chain keyrings and notebooks.
Why not visit our online shop and please don't hesitate to get in touch in you have any questions.
News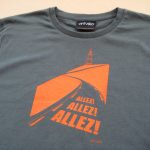 Mont Ventoux – Recycled sweatshirts and T-shirts
October 21 2017
-
Our very latest "Allez! Allez! Allez!" Mont Ventoux design is now available! With a choice of supersoft jersey cotton T-shirt or 100% recycled raglan sweatshirt. Shop NOW! and receive 10% off with voucher code "ventoux". Offer available this weekend only. Mont Ventoux is without doubt one of the most iconic and toughest climbs in the French Alps, featured […]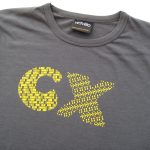 CX is here!
September 26 2017
-
Mud, sweat, beer and frites! With the cross season upon us we're delighted to launch our latest cyclocross inspired design! The graphic design is a "C" of cyclocross inspired words; "climb, jump, frites, bobble hats, sweat, cowbells, stump, run, beer, Belgium, slide, cadence, fall, mud, slip, run". Featuring an "X" made from tyre treads. This […]