At vintvélo we design and create original and stylish T-shirts, sweatshirts and musettes for cyclists. Our designs include road cycling, vintage, time trial and cyclocross themes. Passionate about great quality and ethical fashion, we offer a choice of organic cotton, bamboo and 100% recycled garments.
Our cycling musettes are entirely handmade by us and available in a variety of designs and colours. We also have a range of accessories featuring our designs, including recycled bike chain keyrings and notebooks.
Why not visit our online shop and please don't hesitate to get in touch in you have any questions.
News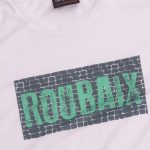 NEW! Recycled Roubaix T-shirts
February 10 2018
-
Our latest design pays homage to what many believe to be the toughest and most iconic of the Spring Classics, the Paris-Roubaix. Made infamous and feared by many for its brutal and unforgiving cobbled sections, or pavé. We love the classics, and this is without doubt our favourite. Each T-shirt is made from 100% recycled […]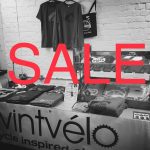 Further 10% Off
January 23 2018
-
With just one more week of the SALE to go, we're giving an extra 10% off with voucher code "Extra10" at checkout. This code can also be used against non-sale items available from our online shop!